Holiday Moments: Past and Present
/ Photogrief : Eleanor Haley
---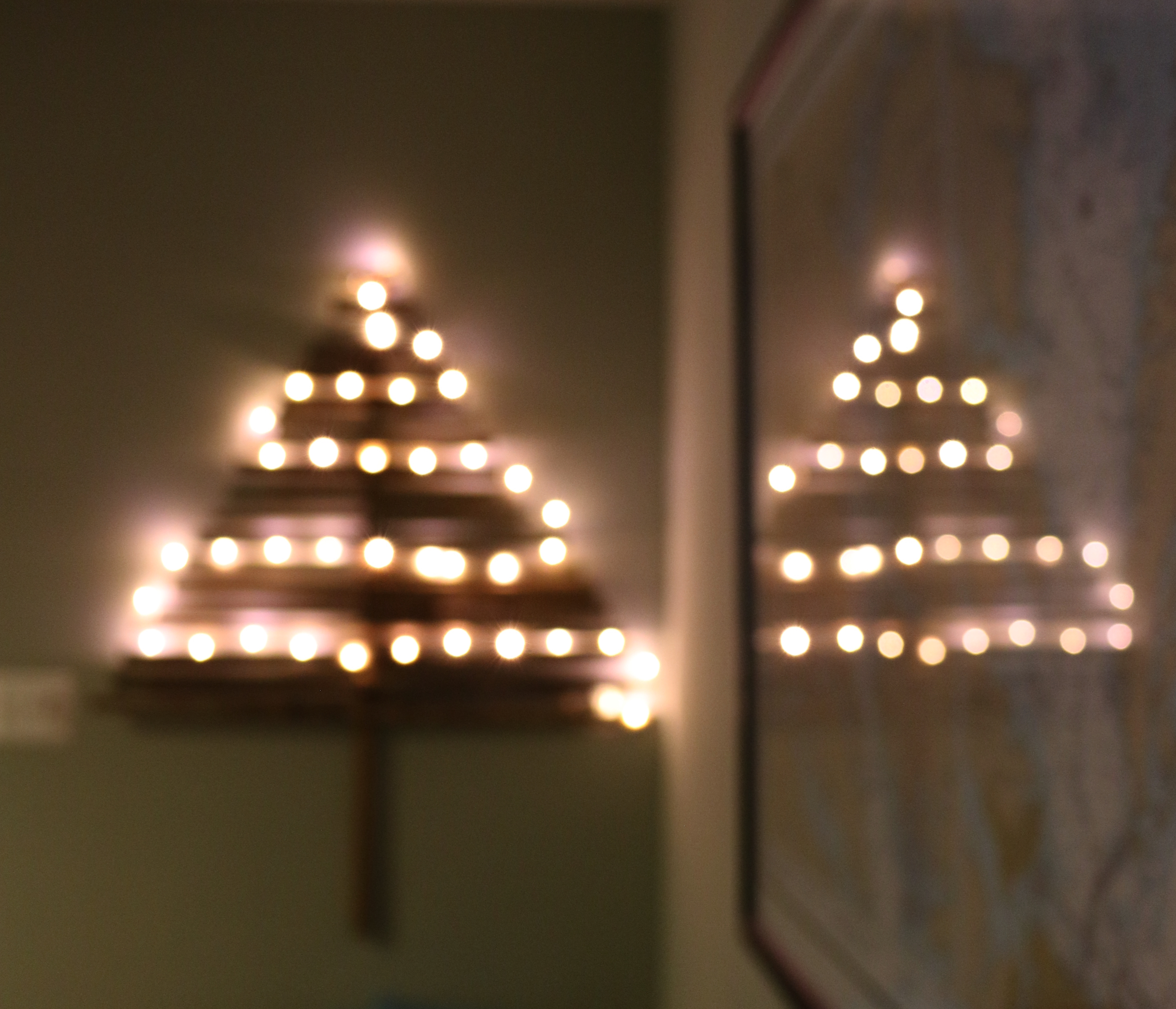 by Litsa Williams
Before three weeks ago I had never put out a single holiday decoration in my own home. For the years I was in my twenties that was excuse enough. I was too young for holiday decorations, I told myself. I didn't have kids to decorate for, so my house remained free of lights and garlands and candles and wreathes. By the time I hit thirty we were traveling to my in-laws' in Florida for the holiday every year, a new excuse to avoid the realities of holiday cheer in our own home. I would find myself surrounded by the reality of the holidays outside my home, but would come inside to the same old holiday-free oasis.
Then three weeks ago all that changed.  I wish I could tell you that something huge changed this year.  I wish I could say it was because something shifted in me and suddenly I felt the joy and spirit of the holidays again.  But in reality,  it was quite the opposite.  This year rolled around, my "half-and-half" year, after which I will have spent more holidays without my dad than I spent with him,  and I still can't muster up any holiday cheer.  Putting up decorations seemed more like a little experiment.  The hypothesis:  if I stopped waiting for the feeling of cheer to bring the inspiration to decorate that perhaps I could flip the equation. Maybe, just maybe, the act of decorating would inspire a feeling of cheer.   The results: mixed.  The decorations are there but they feel a little out of place, a little out of focus.  There are moments that they brighten my mood just a bit, then there are moments they remind me the holidays continue to be bittersweet and they probably always will.
---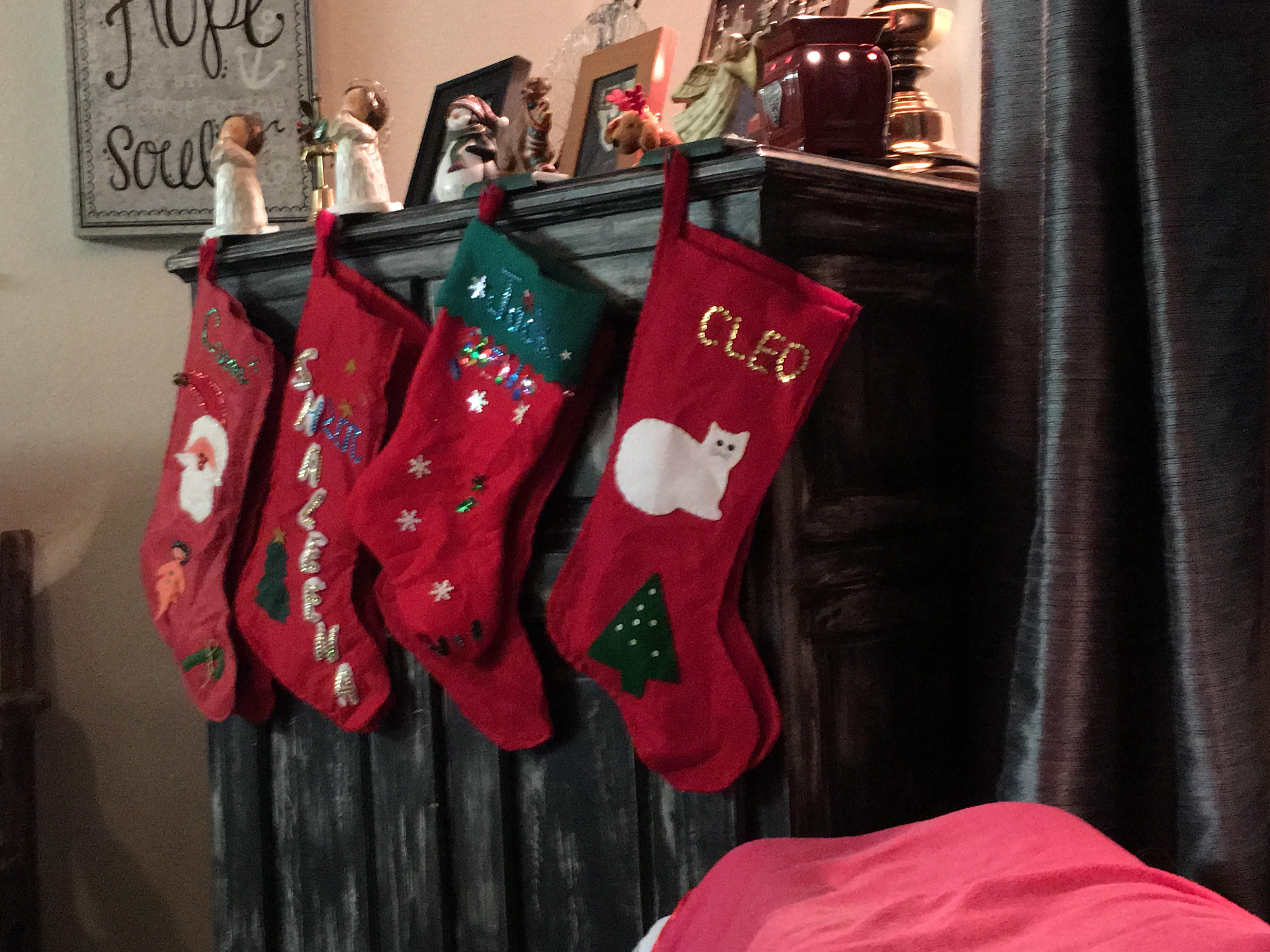 by Carm Russell
This year every one of my stockings has another behind it that belonged to a loved one who has died. From left to right, my husband in 2014, my daughter in 1989, my golden Sam 2016, my chocolate lab Pearl in 2016, and Belle (on the front of Jack's) my cat 2015.
---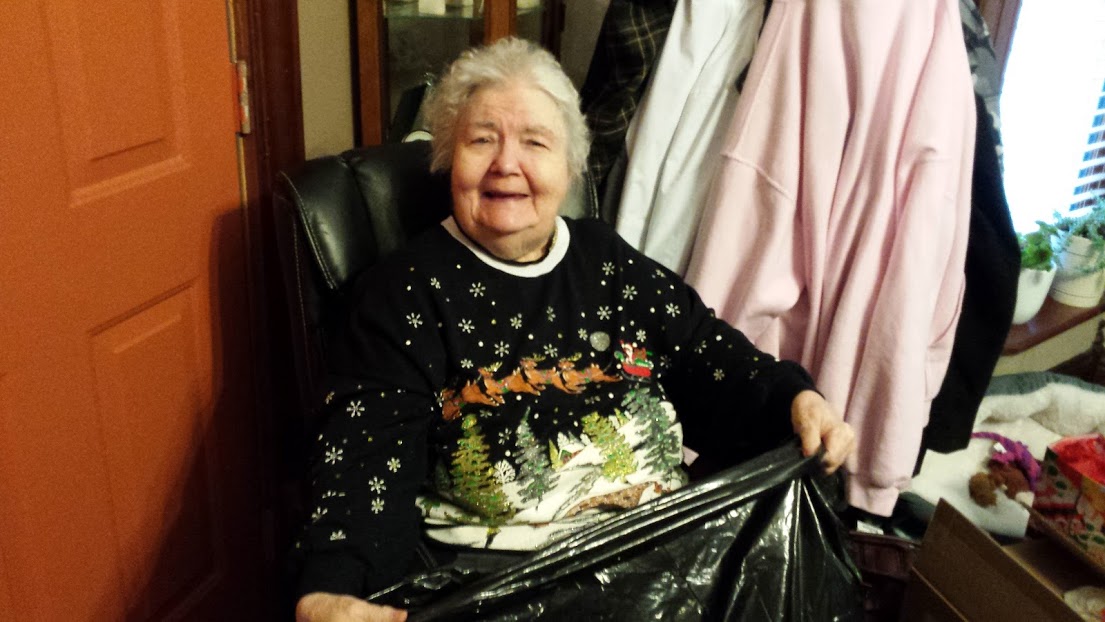 by Anna Anees
My Mother died this past
June 27th
. This is my 1st Christmas without her. I've been asked if I would become the Christmas "bag lady". My Mother a.k.a. Mo would be in charge of the big garbage bag for everyone to toss their wrappings from their gifts into. I still have not decided if I even want to leave my house for Christmas and if I do it would ONLY be for 2 family members. This picture was 2015's Bag Lady photo.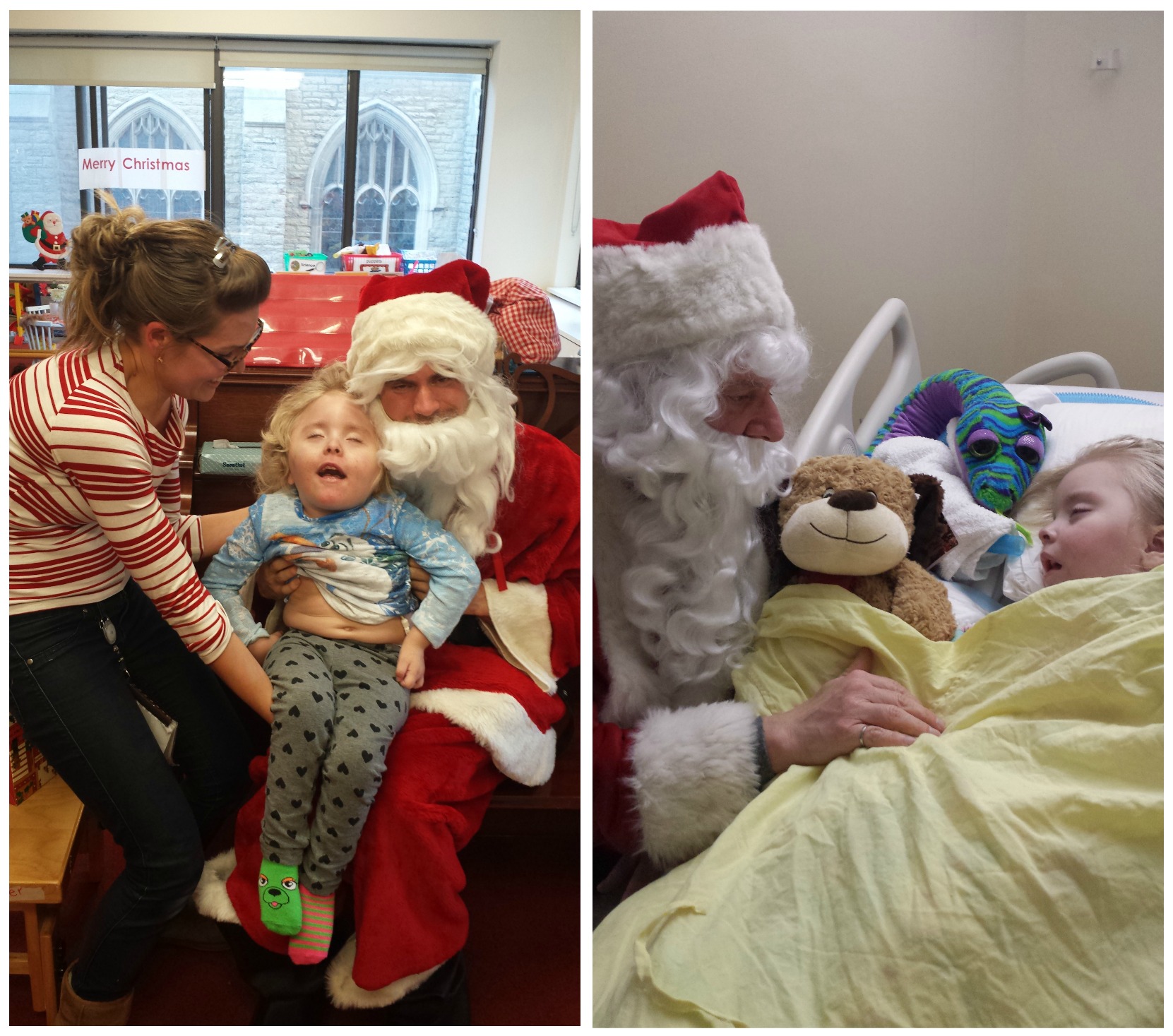 by Paula McCuaig
Daisy was brought into hospital on December 19th of last year and we didn't really know how long we would have with her. Actually, we thought we would be able to bring her home at first, but after a horrible first few days we realized this may be the end.
You'll see in the picture where she is not in the hospital, there is a quality of pure joy on her face. This was taken on the last day of school before the holiday, and just two days later, she was in hospital. As we were not sure if she would even make it to Christmas, the hospital arranged for Santa to come for an early visit, which is where the other photo comes from. What you do not see in that picture is me and my family huddled together crying and trying to capture such a perfect moment. Though these pictures bring tears to my eyes, I'm grateful for both moments. Though Daisy's life was difficult from the beginning(she was fully disabled and had a lot of health complications), she somehow always found the joy in life. And though watching my daughter slowly drift away was bone chillingly challenging, I was grateful for the brief moments of grace.
---
For further articles on these topics:
---