64 Things We Learned at the Compassionate Friends National Conference
/ 64 Things : Eleanor Haley
---
1. It takes approximately 12 hours to drive from Baltimore, MD to Rosemont, IL.
2. A 12-hour road trip without kids is like heaven compared to a 5-hour road trip with kids. Just sayin'.
3. It's not actually impossible to come up with enough topics to fill 12 straight hours without turning on the radio.
4. Consequently Litsa and I have declared, by unanimous decision, that the term 'dress jeans' is an egregious oxymoron.
5. Laundry baskets make good suitcases
6. Compassionate Friends Executive Director, Alan Pederson, prefers the term National LOVE Conference to National Grief Conference.
7. As many similarities as there are between the grief of bereaved parents, there are also infinite differences.
8. You can make a memorial out of anything.
9. A button with your loved one's picture is a great way to share with the world while keeping them close to your heart.
10. The Compassionate Friends is put on thanks in part to generous sponsorships by their members for everything from workshop sessions to centerpieces.
11. There is healing in saying your loved one's name out loud.
12. Words to the wise from Lao Tzu:
"Watch your thoughts; they become words.

Watch your words; they become actions.

Watch your actions; they become habit.

Watch your habits; they become character.

Watch your character; it becomes your destiny."

Lao Tzu
13. Project Grace is a super cool program that organizes services trips all over the world for bereaved parents.
14. There is little value in comparing your grief to anyone else's (although it is natural to want to do so in our humble opinion).
15. Even non-crafters like us can make cool stuff while exploring grief: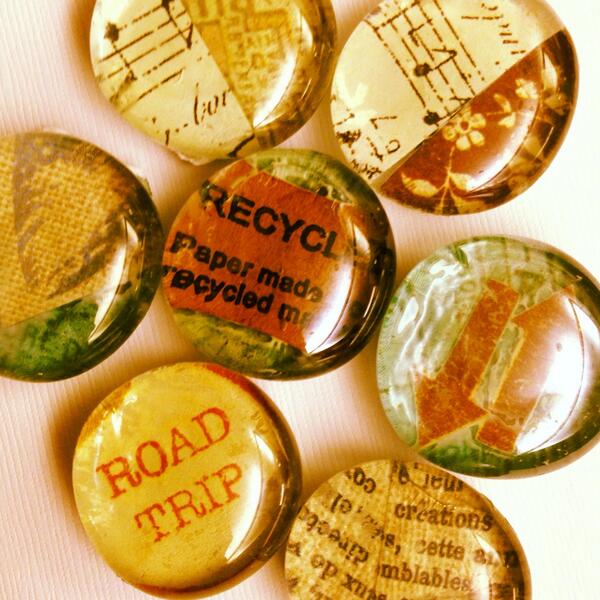 16. Buddha boards seem kind of cool.
17. If your deceased loved one's precious object breaks, a good idea is to create a mosaic out of the missing pieces.
18. Compassionate Friends is as much for bereaved siblings as it is for bereaved parents.
19. Grief Conference and Exotica Conference in the same hotel = Amazing photo opportunities!
20. Says one Compassionate Friend's member, "Just because someone is in a support group, doesn't mean they are safe to talk to."
21. Bereaved Parents of the USA is another great resource for grievers.
22. Grievers often feel guilty about having fun and smiling.
23. But as Darcie Simms believed, you have to feel the joy.
24. And Bart Sumner's Healing Improv session was proof.
25. The type of stress associated with grief has been linked to Takotsubo Cardiomypopathy (i.e., Broken Heart Syndrome).
26. In the week following the death of a loved one, you could be six times more likely to suffer a heart attack.
27. Basically Cortisol (i.e., the stress hormone) is your worst enemy.
28. Chicago style deep dish pizza is deeeeelicious!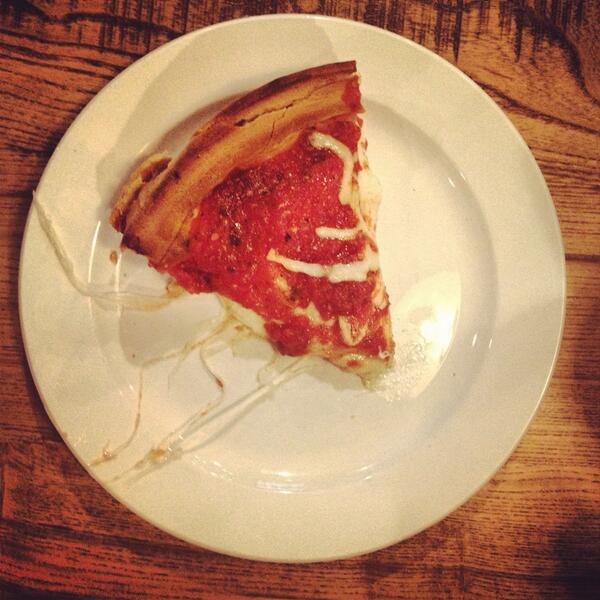 29. The Hotel Bar Networks is an eclectic mix of khakis and sensible button downs.
26. We still have no idea what kind of bug this was: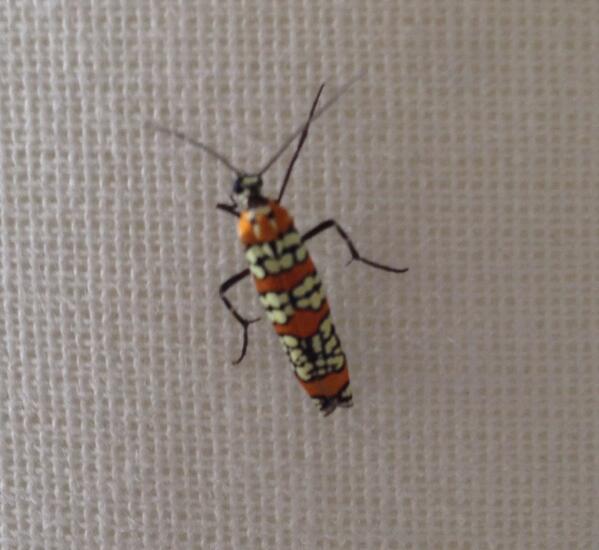 27. 7 AM yoga sessions are pretty awesome, or so we hear from people who get out of bed way too early.
28. Though all individuals grieve differently, support groups are a good tool for couples who want to heal together.
29. The Compassionate Friend's Chapter Leaders are amazingly dedicated to helping their peers.
30. Real men grieve.
31. The process for creating a Facebook Memorial Page is more complicated than we thought (but not impossible).
32. 200,000,000 Americans are on Facebook.
33. Glen Lord from the Grief Tool Box knows a ton about grieving on the Internet.
34. He also agrees that Marty Tousely of the Grief Healing Blog is aweeeesome.
Glad to hear a shout out to one of our fav people @GriefHealing during the @TheGriefToolbox presentation for her GREAT online grief groups!

— WhatsYourGrief (@WhatsYourGrief) July 12, 2014
35. 50% of Americans say they talk to people more online than in real life.
36. If you find an online support group, make sure it's moderated.
37. The Compassionate Friends has moderated chat rooms for bereaved parents and siblings.
38. Grievers often experience judgment and stigma from those who they least expect it, even from others with the same type of loss.
39. Guilt is the feeling that you did something bad. Shame is believing that you are bad.
40. Listening to and creating music is a great way to deal with your emotions.
41. We're not the only weirdos using photography to deal with grief.
42. GrooveBook is a great new app to help you inexpensively develop your photos into a keepsake book.
43. You can also find great murals in Philadelphia and San Francisco.
44. If your loved one is buried in a far away place, 'Find A Grave' will have someone in that area take a picture of the grave and send it to you.
45. Many people still don't know what a 'hashtag' is (i.e., pound sign, number sign) #LateAdopters
46. Grievers (like all artists) worry that others will criticize the photos that are meaningful to them and their other artistic expressions.
47. Good advice for those who create: If you don't want to hear other's feedback just say, "I am showing you this, but I don't want to know what you think".
48. We had the most awesome workshop audience ever (this is opinion, not fact).
49. A spontaneous viewing of Begin Again was a good way to waste a few hours.
50. Hospice and healthcare expert Dianne Gray believes talking about grief is becoming mainstream and also said some other smart things.
Great words from @DianneBGray at the @TCFofUSA conference: "We are brothers and sisters in grief and we are brothers and sisters in healing"

— WhatsYourGrief (@WhatsYourGrief) July 13, 2014
51. The Candle Lighting Ceremony was an emotional way to officially end our conference experience.
52. Two days of talking and learning about grief is a positive but exhausting experience.
53. The Hummel Museum is closed on Sundays #Disappointed
54. The way home feels a lot longer than the way there.
55. The bathrooms on the Indiana Turnpike are one collective practical joke.
56. It's not impossible to get work done in the car: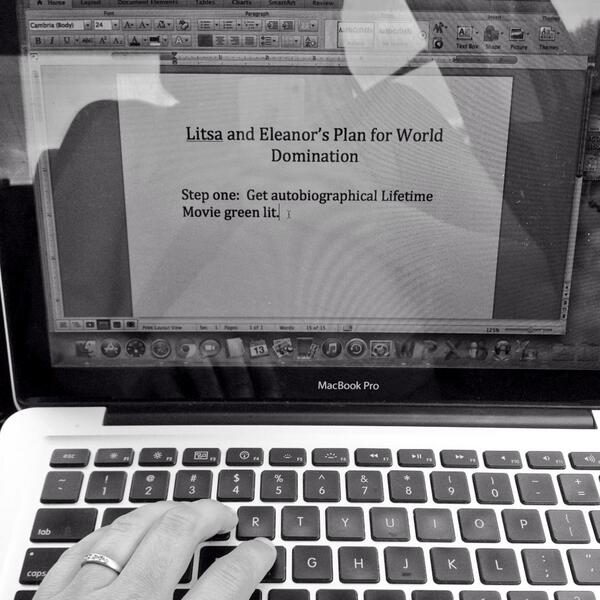 57. Litsa likes to listen to This American Life. Oh, you already knew that.
58. But did you know she also likes to car dance to 'Single Ladies'? Me too.
59. Pizza combos are a suitable meal substitute.
60. Rainstorms make for stressful driving conditions.
61. If a tornado comes along while you're driving and you can't find shelter indoors, lay in a ditch or low lying area.
62. Also, if you are in your car when it's lighting, try not to touch the steering wheel or metal frame.
63. Our whirlwind trip to the Compassionate Friends National Conference was well worth the effort.
64. There's no place like home.
---
Phew! If you made it all the way down to the bottom of the post then I must conclude you like our blog and want to subscribe.
We wrote a book!
After writing online articles for What's Your Grief
for over a decade, we finally wrote a tangible,
real-life book!
What's Your Grief? Lists to Help you Through Any Loss is for people experiencing any type of loss. This book discusses some of the most common grief experiences and breaks down psychological concepts to help you understand your thoughts and emotions. It also shares useful coping tools, and helps the reader reflect on their unique relationship with grief and loss.
You can find What's Your Grief? Lists to Help you Through Any Loss wherever you buy books: