Incorporating Photographs into Art
/ Photogrief : Eleanor Haley
---
---
For further articles on these topics:
---
Today we welcome our grief friend Kelly Frasier to PhotoGrief.  Kelly has been sharing photos with us on Instagram since before PhotoGrief (you can follow her @ frazkay). We love her most recent work incorporating photos into art and asked her to put together a step-by-step for our readers. This would be an awesome art journaling activity or grief group activity for teens and adults who like to get their hands dirty.  We'll let Kelly take it from here.
---
I don't consider myself a great artist; in fact, grief is what inspired me to pursue new avenues for artistic exploration. I realized that I didn't have to be a great artist to enjoy creating art, so I'm always looking for projects that are easy enough that even I can give it a go. Working with photos and different types of collages is one way to get started because if you can cut and paste, you can create.
For me, working with photographs is a way to spend time with those I miss. I can bring them into the present by creating little works of art. For example, in the below photo of my husband I have restored the red in his sweater. I never saw my husband in that sweater; he had borrowed it from his brother. I think it was red and red was Steve's favorite color, so I put the red back in the sweater. Also, I love working with gold metallic paints to keep Steve in the light. You can really do whatever you like to bring these photographs to life in different ways.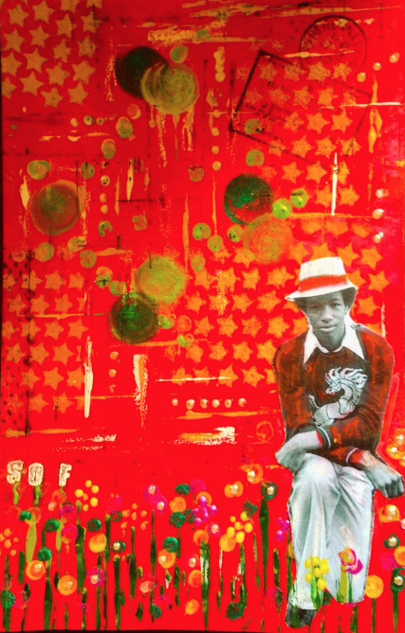 What you need:
Canvas: This could be an inexpensive canvas or thick paper, but a watercolor paper of mixed media paper would work best. You could also consider using a wood surface.
Acrylic Paint: Choose a couple of different colors. Art supplies can be expensive, so don't be afraid to pick up the cheap brands at your local craft stores. (Hint: Craft stores like Michaels often have 50% off coupons available online or in the circular.
Black and White Photo: If you have a color photo that you would like to use, try running it through a photo app like Instagram or Photoshop to convert it to black and white.
Water color pencils
Paint brushes: No need to get fancy here either, you could even use a makeup sponge for applying background color if you like.
Mod Podge or Gel Medium: To use as a glue and sealer
Stencils, stamps, magazine/photo cut outs (optional): These are optional depending on what you want to include on your page.
Steps:
1. Choose a color and paint your canvas or paper. For a canvas, use a brush. For paper, you could try a makeup sponge to apply paint and make lighter and darker areas. You can choose any color you like based on the piece, your preferences, or a color that reminds you of your loved one.
After you choose your color, squirt a glob onto a paper plate and start painting the canvas. If you're not using a paint brush and the paint seems a little thick, use a spray bottle to spray a little water onto your glob of paint or dab your sponge once onto a separate piece of paper to thin it out before applying. If you're using a brush, you should just be able to spread the paint out.
Once, the first color dries, you can apply an option second coat. This coat will give your piece more dimension and a slightly distressed look. You can do this by going over the canvas again with a slightly darker color and then wiping most of it off with a paper towel.
2. Cut out your photo and colorize: Choose a few areas where you might want to bring a little color back into your photo. You might try a little red for lips and cheeks, a few highlights in their hair, or an article of clothing. You can also try using a color on the darker areas of the photo to accentuate folds in clothing.
Dip one of your water color pencils into water and start coloring in the areas you want to color. Follow with a q-tip to spread and smooth out color. Here is a blog post about hand coloring photographs with color pencils if you want some extra guidance.
3. Decorate your canvas: Once your background coat dries, do any additional painting on your canvas you like. Like I said, I don't have a ton of artistic ability so I tried to keep things simple by using things around the house to decorate.
For example, for the piece bellow I dabbed the side of a plastic credit card in green paint and used it like a stamp to create the grass. I did the same thing for the flowers by dipping q-tips in paint and stamping on different colors. For my sunshine, I dipped an old toothbrush into a little paint mixed with water and then splattered it onto the corner of the canvas by quickly dragging by thumb across the toothbrush. The possibilities are endless and when your just learning it's all about experimenting with the process.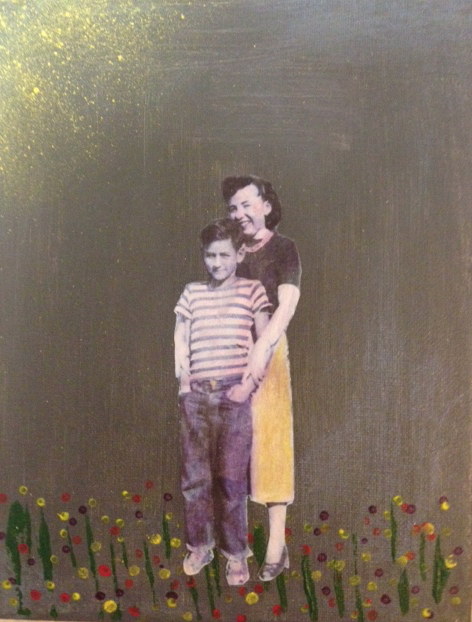 4. Glue photo(s) onto canvas: When you're ready, use the Mod Podge or Gel Medium to glue your photo onto the canvas. Don't go too heavy because you don't want to accidentally cause the colors on your photos to run. In case you want help, here is a YouTube video walking you through Mod Podging a picture onto a canvas.
When everything is in place, seal the whole thing with Mod Podge or Gel Medium. Again, just be a little careful on the colorized parts.
Subscribe to receive posts straight to your inbox.